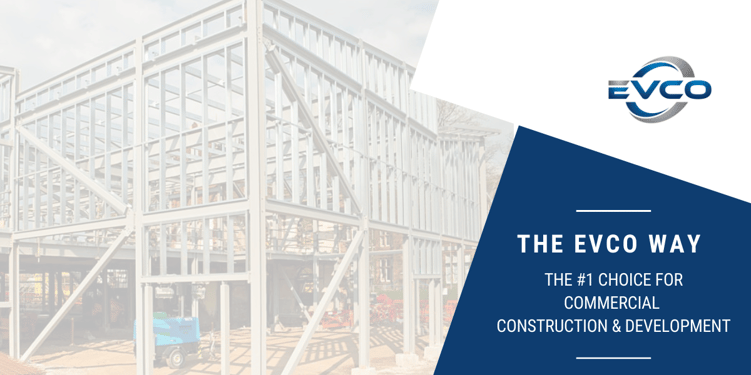 Here at EvCo, we take pride in our dedication to delivering construction solutions efficiently, all while providing top-quality products in the safest manner possible. We are humbled to say that this has led us to be one of the top Commercial Development providers in the Acadiana area for the last 8 years. Read more about why you should choose EvCo for your next project!
Our team of multifaceted builders work diligently to ensure that you are provided with the utmost service to help get what you've envisioned to come to life.
OUR EFFICIENT PROCESS FROM START TO FINISH
We all know that when dealing with developing construction, efficiency is a key factor in producing a smooth and successful build. EvCo ensures this to be achievable by their distinct and thorough planning process well before breaking ground.
Consultation
This starts with a Consultation where the EvCo team assists in the initial planning process and provides the smoothest pathway to delivering a successful development. From early project decisions, to discussing the materials needed and mapping out a plan, we like to make sure that we are set up for success from the very beginning.
Site Analysis and Evaluation
Next in our process is a Site Analysis and Evaluation, where we can identify, collect, and analyze specs and provide suggestions needed for your specific project.
Quote
We then provide a Detailed Quote of the work to be done, materials needed, and service to be provided, which allows us to perform on-time and on-budget.
Plan of Action
Next is the fun part, where we create a comprehensive plan of action, which includes creating agendas that help us to clearly define deadlines and meet client expectations; and then, we get to work!
COMMUNICATION
Exceeding customer satisfaction is our top priority, and to do this we make sure that we maintain communication throughout the entire duration of the project. We understand the stake our clients have when involved in construction development, so we prioritize consistent communication and do whatever is necessary to make that happen. This means that from initial planning, progress updates, and detailed suggestions, we make sure that you are involved and informed every step of the way.
SAFETY
At EvCo, we value our team and most importantly, we value their safety, which is why we take every precaution necessary to ensure an injury-free jobsite. This allows us to mitigate risk and focus on producing the highest quality service to our clients.
COMMERCIAL DEVELOPMENT: WHAT WE DO
Commercial Development is about taking ideas that you once had on paper and turning them into real property. It's a process that delivers a product with the goal of meeting some sort of a consumer demand; and while the big picture seems like it's within arm's reach, the development process can get pretty tedious.
By choosing EvCo Construction, anything you need, we've got you covered. From Land Clearing before Landscaping to Final Dressing of your development, EvCo is there to provide a stress-free process.
CONTACT US
You can count on us to make certain that all the prep work is done so that your land is ready for the landscape team to work their magic! Contact us today!
---

Serving Residential, Commercial, and Industrial Clients
At EvCo, we take safety very seriously. We are licensed, insured and bonded as well as keeping our contractors license current. We pride ourselves on being a solid choice for site work, big and small.